FORWARD THINKING DRIVES EVERYTHING WE DO.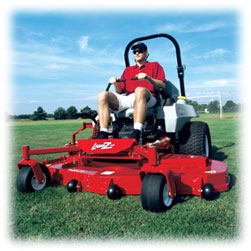 An open, honest exchange of ideas with landscape professionals strengthens our commitment to think outside the box---to continually evolve our entire product line so you won't need to look anywhere else for the most powerful, productive machines on the market.
Our Model line-up further positions EXmark as the industry leader in commercial mowing equipment. From Gear-Drive to Hydro-Drive walk-behind mowers, to the unrivaled performance of the industry leading Lazer Z know that for proven productivity Nobody Does It Better.