ARCTIC CAT 500 Review page 1 of 2

Arctic Cat
500 4x4

Cool Power Gives
This Quad an Attitude


Bob Davis
Editor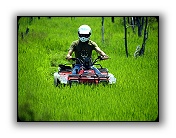 Just cruisin'!
The Arctic Cat brand name has existed since the early '60's and is among the most widely recognized and respected names in the snowmobile industry. They sell tons of snowmobiles and have been a consistent leader in technological innovation. Point in fact--snowmobiles have been AC's bread and butter for more than 30 years. But something strange is happening that even has the Arctic Cat executives taking notice. Corporate planners expect ATV sales to equal snowmobile sales in five years. Not bad for a company that launched it's first ATV only five years ago.
The Arctic Cat BearCat 454 4x4 was AC's maiden flagship, introducing it to the public in late 1995. Since then, ATV sales have reached nearly 20 percent of Arctic Cat revenues. After the BearCat's introduction, they continued to expand its product line with new model introductions and enhancements. Advertisements touted "best-in-class" features offering unmatched comfort, suspension and ground clearance. Compare, compare, compare is the marketing theme strategy. Apparently it's working as overall market share has been steadily increasing. Since it's introduction, Arctic Cat has dropped the BearCat name and simply uses the engine size for machine identity.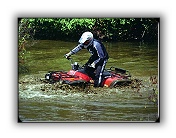 Even after repeated trips through this mudhole, the airbox stayed dry.
Last summer we reviewed Yamaha's Grizzly--inadvertently pronouncing it "King of the torque monsters." Yikes--was that a mistake! I received e-mails for months from irate Arctic Cat owners saying their machines offered more torque. With a larger and longer bore x stroke and a 6mm larger carburetor, I couldn't imagine the 595cc Grizzly engine losing out in a torque contest to the 493cc engine on the Arctic Cat. Well, apparently it does. After conferring with the engineers at Arctic Cat, they are sticking by their guns that the 499cc engine in the AC quad offers more torque (but less horsepower) than the Grizzly's 600. They could be right. I knew while testing both machines that the torque numbers would be very close, and indeed they are. The AC 500 offers roughly 31 ft/lbs and the Grizzly roughly 29 ft/lbs. Whether either machine can put all that torque to the ground is another story. While the numbers confer bragging rights, in all reality, most normal trail riders won't notice much of a difference between machines. Both of these machines are sooooo powerful, you lose traction long before you lose power. But we offer the torque numbers as commentary for the status symbol that ATV owners place on their quads' power.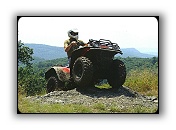 Climbing mountains with the AC is a real joy.
The culprit behind all this torque is a 493cc 4-stroke, single-cylinder, liquid cooled, SOHC developed by Suzuki back in 1998. Some of the engine's components are taken directly from high-tech motorcycle engines. For instance, the aluminum cylinder has been plated with silicon carbide providing a better ring seal and heat dissipation than a heavy iron liner. An oil jet cools the underside of the piston, providing a longer lifespan. Unlike motorcycle engines however, this motor has been tuned to produce high torque at low RPM. The abundant torque overshadows virtually anything else on the machine. Throttle response is outstanding. It pulls hard from every gear and is what we refer to in the business as having snot to it. The quads' speedometer read 58 MPH as top speed, but in all reality, you won't be approaching anywhere near this speed on the trails. At that speed the engine was so torqued out we thought it might explode.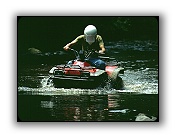 Pennsylvania has received three times the normal rainfall this summer. Water testing is not a problem.
Engine vibration is non-existent and exhaust tip noise level is low. The motor transfers its fortified power to the shaft-driven wheels through a 5-speed transmission with an automatic clutch and reverse gear. An additional low-range sub-transmission creates a total of ten forward gear combinations. The AC 500 uses a close ratio gearbox, which explains why it was possible to start out in third gear without straining the motor. In some cases, we were even able to start out in fifth! This should be a great benefit to those who wish to run taller heavy mud tires in extreme conditions. Because of the close gear ratios we found the display panel gear position indicator lamps quite helpful. Low-maintenance features on the AC 500 include suspension bushings; sealed drive shafts, front and rear; constant-velocity (CV) joints; and a sealed transmission case. New for the 2001 model are stick-stoppers on the front CV joints.



Feeding the engine is a Keihin CV 34mm carburetor. For '01, the AC 500 uses a 4.75-gallon gas tank with fuel gauge. That's a half-gallon larger than last year, and fill-ups should be easier thanks to a large diameter filler neck The reserve tank selector dial switch has been relocated for easier access.
For ease of maintenance, an easy to reach spin-on automotive-style oil filter is attached on the engine's right side. A start-in-gear feature eliminates the need to shift into neutral when starting the engine. The 2001 model has a decal conveniently placed with directions of the "start-in-gear" feature. A push/pull lever mounted on the left mudflap near your knee offers selectable 2WD/4WD. This feature allows you to shift the transmission into 2WD to reduce steering effort or into 4WD for maximum traction.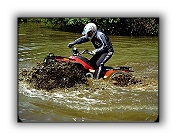 The AC would bog down in the deep stuff--almost coming to a stop, until both front tires started churning. This photo caught the instant after both front tires engaged. It dug itself right through.
There's a short sentence on page 11 of the 2001 Arctic Cat ATV Brochure that reads: "Automatic torque-sensing front differential for true four-wheel-drive." After closely looking over the front differential, it appeared to be an ordinary limited-slip that offers three-wheel drive. But we gave them the benefit of the doubt and decided on running the quad through our worst mudhole anyway. (Editor's Note: "It's a damn shame when we have to prove what we think!")
We were amazed at what we discovered. Here's how the front differential works. On typical hard pack riding and rock climbing, the front end will never kick into true four-wheel-drive. It's necessary for one of the front tires to spin freely for a couple seconds in order for power to be transferred to the other front tire, thus making for true four-wheel-drive. When mud and/or water allow one of the front tires to break traction and start spinning easily, the front end will lock after a few seconds of spinning. When kicking in, the locking front end can be felt and heard. There's a slight click in the front differential and the machine will lurch forward with new found traction. We breezed through the testing mudhole. No problem whatsoever--and this mudbog is no easy feat.
Only three stock quads have made it through this mudhole.
The Traxter, a Polaris Magnum, and now the Arctic Cat 500. Machines that have failed include the Grizzly, 450ES, Wolverine and QuadRunner 500. The Arctic Cat and Traxter made it through with the most authority.
"click" for Page of 2 Review