---
Test riding Arctic Cat's
2000 Duramatic 500 4x4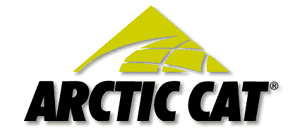 Ray (Hawkeye) Sedorchuk

For 30 years, Arctic Cat, a company based in Thief River Falls, Minnesota, has had an impeccable reputation for building high-quality snowmobiles. Just over four years ago, Arctic Cat came across the board with their first ATV, the Bear Cat 454 2WD and 4x4. Since this introduction, ATV sales have reached nearly 20 percent of Arctic Cat revenues. The comfort, handling, suspension and good ground clearance of its ATVs certainly plays a part.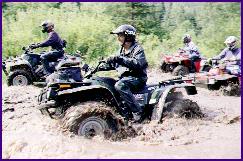 Arctic Cat's 500 automatic

Every year Arctic Cat invests millions of dollars in plant and equipment facilities as well as research and development. Arctic Cat's designers and engineers work with dealers all over the world in order to develop a leading all-terrain vehicle that is innovative in design yet affordable. Arctic Cat's engineers put the units through continuous use tests where Arctic Cat's ATV's run on a test track twenty-four hours a day for weeks at a time achieving a stronger, better-built machine.
In the world of ATVs, there is an intense desire for a strong, reliable automatic big bore four-wheel drive. Arctic Cat answers this call with a well thought out 500 Automatic. With the approach of Y2K, Arctic Cat introduced its 2000 Model lineup at the picturesque Beaverfoot lodge in the foothills of the Great Canadian Rocky Mountains.
(CUTTING EDGE) DESIGN:
At a glance, the original manual-shift 500 and the new 500 automatic look similar.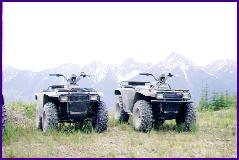 Both 500's have identical chassis and suspensions.
It is deep down in the automatic that all the changes have been made. The improved design offers a surprising amount of pulling power and a front differential-locking axle. Also, new to this year's model is the ability to shift from 4WD to 2WD with a pull shifter. The dual-caliper braking system with the combination of two rear wheel hydraulic calipers is unique and highly functional.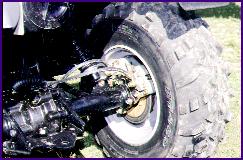 The dual caliper braking system is top notch.
The hydraulic brakes work by squeezing the left hand brake lever, which applies braking pressure to both front and rear calipers making the hand brake positive four-wheel braking action. Applying the foot-brake pedal will then put braking pressure to the remaining rear caliper. This type of braking action works extremely well and is unique to Arctic Cat.
ENGINE:
Remaining the same is the 493cc four-stroke, bored at 87.5mm with an 82mm stroke and 9.1 compression ratio. A crankshaft counterbalancer makes the 500 run smooth and produces no excessive handgrip vibration. The engine is liquid-cooled by a four-valve power plant. This alone is an impressive combination but now add carbide impregnated cylinder walls and a high-capacity oil pump for optimum heat transfer and the engine will get years of durability.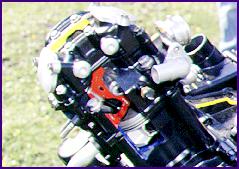 An engine with an attitude.
The power plant also boasts 30.6 ft-lbs. of torque at 3,500 rpm--an abundant amount of power at such a low engine speed. Let's not forget Arctic Cat's new 34mm CV carburetor with a primer system. This enables light throttle effort and provides worry free start-ups in sub-zero temperatures. This is an engine that produces rider confidence.
A few other benefits are the 25-amp alternator for more than sufficient electrical power and a large fan-cooled radiator for regulated operating temperatures. We were particularly impressed with the broad range of power produced by the big automatic Cat. Hillclimbing is never a problem.
TRANSMISSION:
As Arctic Cat breaks into the New Millennium, they will do so without sacrifice. The new variable-speed belt-drive automatic transmission with low-range sub-transmission has been built to perform and last. The transmission can be placed in a choice of High/Low range via pistol grip shifter at the right side of the gas tank or 2WD/4WD modes via a push-pull shifter at the inner fender.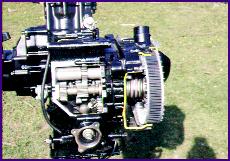 An automatic with a continuously engaged belt.
Being manually operated, the cable activated 2WD/4WD lever must be engaged while the machine is stopped. Recently, we tested Polaris's Magnum and the Grizzly's Ultramatic transmissions. Neither impressed us as much as the new Duramatic Automatic, as Arctic Cat calls it. The noise level is very low, engine braking was quite impressive, and the continuously engaged belt, made for a smoother ride and offers longer belt life. The new Duramatic never disappointed us.
While test riding the 500 Automatic, there was never a problem with acceleration nor were there any funny noises. The test unit produces excellent downhill compression braking. In fact, the engine braking system, which is very similar to Suzuki's QuadMaster, may be the best in production. Strong points include a wet clutch primary and a belt driven automatic secondary clutch. The secondary belt driven clutch is continuously engaged, this means the belt will never sit idle as the engine continues to run. By eliminating this weak point found in most other automatics, Arctic Cat enables quicker throttle responses and allows for longer belt life. By producing power in this manner, the load pulling power increases.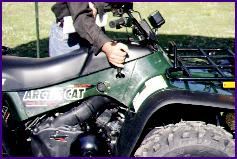 The pistol grip shift lever.
Another sweet feature is the all aluminum transmission case. Not only does this case protect the belt from water but it also has a bearing machined into the case itself. This distributes belt torque pressure evenly across the main out-drive shaft producing reliable, quiet, vibration-free output. High, low, neutral and reverse shifting capability is through a convenient pistol grip shift lever, which is mounted just in front of the rider's right knee. On several occasions we tried to produce wheel spin on uneven terrain but the traction produced was true and always pulled without any unnecessary traction loss. Very impressive!
SUSPENSION/ERGONOMICS:
There are a few other important items that need to be mentioned such as the maintenance-free sealed drive shaft and the protected rubber suspension bushings that require no lubrication. Another important feature is that both Arctic Cat 500s can be started in gear--a safety feature we'd like to see on all machines.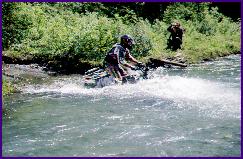 Engine air intake is incorporated high and behind the fuel tank.
At the introduction of the 2000 Models we encountered a beautiful but difficult river crossing. A cold cascading glacier fed river nestled in a vast stand of giant spruce trees at the foot of snow-capped mountains. Arctic Cat's 500 excelled in the water crossing. The machine's carburetor air inlet is high and just behind the fuel tank offering protection from deep water. The water depth would have swallowed a lot of other machines, but not the Cat!
Small things come together to make the best of difficult terrain: like the 7.2 inches of wheel travel and independent suspension along with semi-independent rear suspension. The 9.2 inches of ground clearance accompanied by a full-length plastic skidplate is also a definite plus. Other nice features include 32 inches of seat height stability, plus an exceptional front wheel drive differential which is load sensing and puts power to both wheels. The design utilizes cams that sense which wheel is spinning the most and then transfers power to the other wheel. This is common on limited slip differentials. Constant shifting of power to both front wheels offers the ultimate in traction from a 4WD system.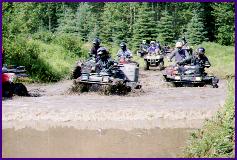 The new front differental proved to be impressive.
Another advantage of the 500 4x4 Automatic is its exclusive front-wheel drive differential that is new for 2000. When engaged, it transfers power to both wheels like the 400 and 500 4x4 systems. It uses a different mechanism than cams, producing light and easy steering whether in 2-or 4-wheel drive. We welcome the engineer's desire to lessen steering effort.
ELECTRICAL SYSTEM/INSTRUMENTATION:
The 500 Automatic is equipped with a 25-amp alternator that supplies power for the two 35-watt headlights. For riders who like power winches, there are two, 12V electrical accessory hookups-one in the front and the other in the rear of the quad. A helpful feature of this shiftless wonder is the hand-and-foot-activated brake light-very nice when riding with others. The instrumentation is simple and consists of a gas gauge, speedometer with resettable trip meter, plus neutral/reverse indicator lights. All the instruments are easy to read and user friendly.
Conclusion:
If Arctic Cat continues to improve its product line of ATVs, it won't take too long before they move into a leading manufacturer's spot. Could it be the attention they pay to detail or is it their research and planning? Whatever it is, let's hope they keep it up!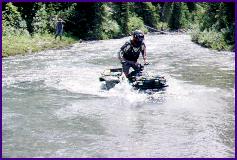 Arctic Cat reliability.
When the ATV competition becomes tougher, manufacturers must produce better machines just to stay in the game or start a whole new game with an altogether different animal. The Duramatic Transmission is part of this game and is one of the finest backwoods machines available. The unit is surprisingly sure-footed and very powerful. The features designed into the new 500 Automatic have produced a machine which enhance the rider's capabilities and just makes it fun to ride. So, if you're looking for a machine that you will want to ride every day, check out this animal.
The Remaining Force:
After riding all seven AC models, it is easy to say "quality machines".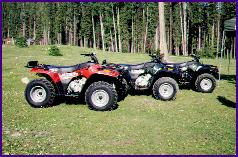 Arctic Cat's remaining force.
Let's start with the 2WD 250 and 300, nice riding machines with short turning radius and lots of power. Next is the 300 4x4. At first glance, it looks durable and sporty but when you ride this unit, look out! Be prepared to be astonished, the power is right there with the big boy 500's. Now for the 2WD 400, great looking and fine handling comes to mind. Also lots of rack space and power to spare. As the line-up continues, the 400 4x4 takes its place. The 400 is a hard working machine with over 1000 pounds of towing capacity. The semi-independent suspension of this unit is made for work or play.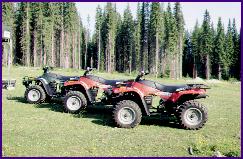 Still more Arctic Cat's
Arctic Cat ATVs have come under scrutiny for their heel/toe rocker shifter. Owners and dealers are giving a positive reaction to the rocker and we feel the setup may be one of the most misunderstood items found on an Arctic Cat ATV. People like controls that are easy to operate. We found the rocker shifter to be quite an asset, especially in aggressive riding applications. When wearing any heavy boot such as riding or winter boots it can be very difficult to produce an upshift because of the extra effort needed to get one's toe under the shifter. If you do a lot of winter riding with heavy boots, this rocker shifting is ideal for you.


Engine Displacement/Type
439cc, Liquid-cooled, 4-stroke, 4-valve overhead cam.
Dry Weight
648 lbs. (294 kg)
Ground Clearance
9.2" (23.3 cm)
Overall Hight
45" (114.3 cm)
Wheelbase
51.6" (131 cm)
Overall Width
45" (114.3 cm)
Overall Length
80.5" (204.3 cm)
Tire Size
Front: 25x10-12 (5.0 psi)
Rear: 25x10-12 (5.0 psi)
Suspension Type
Front:7.2" (18.3 cm)
Rear: 7.2" (18.3 cm)
Transmission
Automatic constantly variable belt drive, reverse, hi-low range
Drive Train
Front: Shaft/selectable 2WD/4WD mode
Rear: Shaft
Brake System
Front: Hydraulic disc
Rear: Hydraulic disc
Fuel Capacity
4.75 gallons (18 liters)
Alternator Output
25 amps
Rack Capacity
Front: 100 lbs. (45kg)
Rear: 200 lbs. (91 kg)
Towing Capacity
1050 lbs. (477 kg)
Instrumentation
Standard: Gas gauge, speedometer with resettable tripometer